North West Wellbeing Project
Welcome to the exciting North West Wellbeing Project
My Liveable Neighbourhood!
We invite all community members to actively participate in this exciting initiative! From community festivals and outdoor fitness classes to support groups and eco-conscious initiatives, we have something for everyone.
What's Planned?
Community Festivals and Events, Therapeutic Support, Case Management, Access to Mental Health Professionals, Fitness Activities, Sports Events, Creativity & Wellness Workshops, Community Education, Disaster & Hazard Preparedness (Fires, Floods, Climate), Safety Measures, Leveraging Technology, Eco-Friendly Initiatives.
Join a range of field experts sharing knowledge and practical tips.
Building Community Connection!
Supporting Mental Health!
Encouraging Active Lifestyles!
Supporting Disaster Preparedness!
Linking Community to Services and Service systems!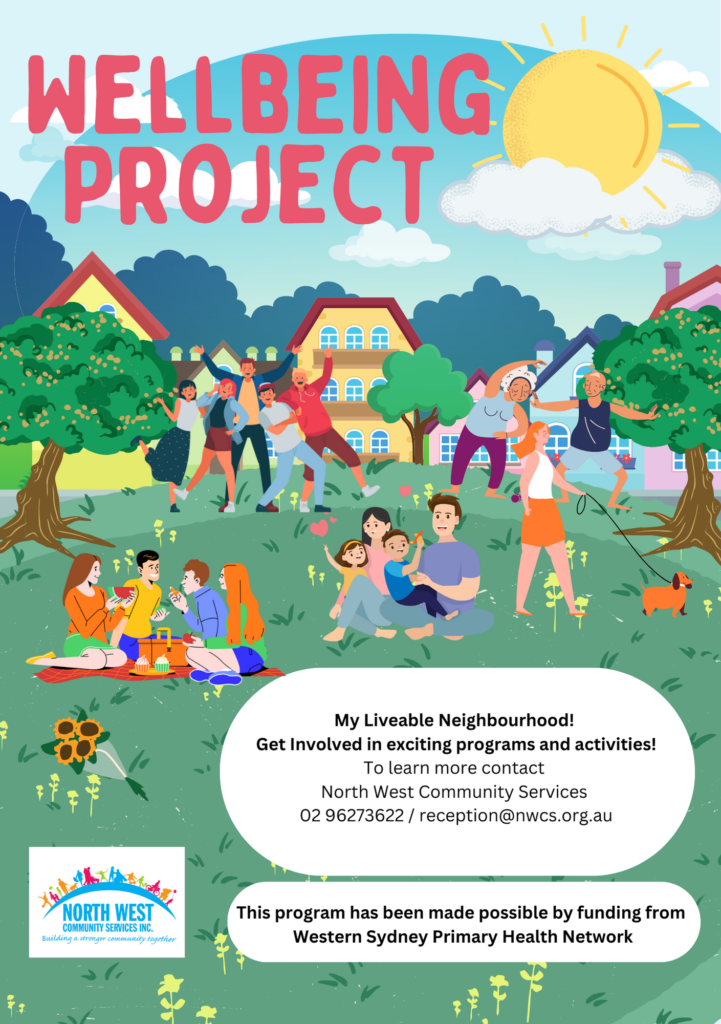 Disaster Preparedness - How to prepare for disasters
Every day actions make a difference

 
RISKS THIS SEASON- An El Niño climate pattern has developed this season. El Niño increases the chance of a drier hot season. Take steps today to make sure you're prepared for an emergency. 
3 steps to get ready
Understand your risk-Natural disasters impact people, destroy homes and damage roads and essential services. Understand your risk so you can be prepared for an emergency.
Make your emergency plan– Guidance on how to prepare your home, family or business for natural disasters, such as storms, floods, bushfires and heatwaves.
Pack your emergency kit– An emergency kit should be put together before a disaster happens. It can save you valuable time, if you need to leave your home or defend your property, and can help you survive.
Information courtesy Get Ready NSW website click here for more information 
Use the quick link icons below to be directed to NSW police, SES, RFS and Fire + Rescue. 
COMMUNITY PROGRAMS AND EVENTS
Scroll through and take a look at some of the exciting programs and events we have planned for community.
View or download our calendar of programs and events here
If you would like further information or have any questions please contact us on 9627 3622